« Just full of hot air... | Main | Summer Cocktail series »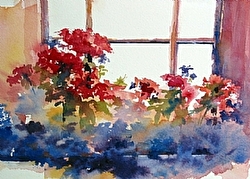 Cottage Color
Multi snow storms over the past week, left shivering Robins huddled in my tree tops, complaining loudly. Being somewhat afraid of heights and not wishing to scare the neighbors, I resisted the urge to join them. With some quiet muttering from me, the walk was shoveled yet again.
There haven't been enough signs of spring, so I decided to create my own on Saturday, while sitting at the Winthrop Co-op Gallery.
Window boxes are no used enough. Bursting with blooms, they lift your spirit whether viewed from inside the house or as a passerby in the neighbood. The boxes say a visual "hello" to anyone who sees them. Thanks to you gardeners who still hold up the tradition.
And a special thanks to Ben, (my new best 5 year old friend) who, with his parents watched as I was painting on Cottage Color said "Wow, you're an expert!" Artists can never hear that enough.
Comments