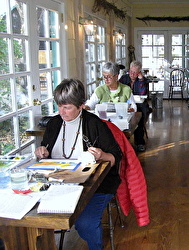 Creative Concentration

Golden Aspen leaves in a fine mist is the view outside my office window. Makes me want to head to the studio to do some wet-into-wet painting with juicy fall colors. Then again, its wonderful to just sit here with a cup of coffee and reflect on this past Friday and Saturday.
Just finished up a 2 day Beginner Watercolor Weekend at the Methow Valley Inn in Twisp. You could't help but be "Inn-spired" by the colorful fall foliage that lights up their landscaping. The artists took advantage of the sun and hues to create some wonderful paintings!
Not only was the Inn spectacular, but the meals were over the top delicious. They were catered by Kathy Borgerson, owner, of Sunflower Catering in Winthrop. (I'm still thinking about her cocoa meringue cookies with the melted chocolate center.) Relaxing over glasses of Lost River Wine , we'd finish out by admiring the day's watercolors before dinner.
There is a 2013 Spring/late April watercolor workshop at the Inn in the planning stages now, as well as a 3rd Annual October weekend. I'm thinking we might need alumni tees!?! Join us.
Comment on or Share this Article →