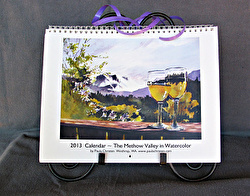 On size fits all - really!
Outdoor recreationists have a saying "Leave no trace behind". That's how I select most gifts these days. Maybe like you, my adult friends and family has reached the point in life where we say "Enough stuff"! What I consider is something that will be consumed and won't require any long term committment of dusting, watering, batteries or exchanges for correct size/color.
True story - My grandmother Edna always declared that her gifts were too nice to use for everyday. After she died we discovered her squirrled cache, neatly stored under the bed, many still in the original boxes. Grandma E. passed away just short of her 102nd birthday, so it was quite the pile! (She's lucky the bed had lots of clearance underneath.) The exception was the annual homemade christmas fudge my mother gave. There certainly were no packages of the chocolate goodies found in Edna's archives. That candy she enjoyed immediately. To her, coffee and fudge was an appropriate holiday breakfast to be enjoyed with the morning newspaper.
And because I was inspired daily for over a year, I still remember when a good friend gave me a National Museum of American Art Edward Hopper: The Watercolors calendar. His paintings are amazing. The first of every month brought a fresh new offering of my friend's thoughfulness. It was the perfect fit for this beginning watercolor painter.
Have some gift ideas you'd to share? Would love it if you would write a comment on the blog. With the season of gifting is getting closer, we all could appreciate reading about the ones you like. Need some inspiration? Consider my 2013 Watercolor Calendar. It's the perfect "one size fits all" with complimentary shipping while supply lasts.
Comment on or Share this Article →