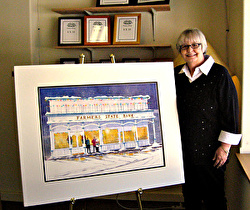 Georgia Adams & Farmers State Bank

It isn't often you get the opportunity to make magic; make the "never happened", a reality.
As artists, waving our brushes over paper or canvas brings someone's visual wish to life. Creating a commission painting is just that.
The Farmers State Bank is a "make magic"painting. Georgia Adams requested it, describing the scene at our first meeting - a snowy night in front of the bank, after closing and all three of her family; her father, son and husband are shown in front. Her father had purchased the bank many years ago and each one of them has worked there - just not at the same time. For her painting, Georgia wanted the scene to show how it might have looked if they had. It was a Christmas present for her husband, but I really think it was a gift she wanted to give herself.
Commissions are scary. I sometimes wish it was possible to lift off the top of my client's head so I can really see what they have in their mind's eye. Not having that handy ability, you really listen to their words. Luckily, I was given lots of pictures to assist with the painting composition. Still, I always worry it won't be good enough.
At the unveiling, my client's first words were "I love it"! Magic had been made. It's a pretty amazing feeling to create someone's dreams. My holiday season was brighter by knowing what was waiting under her tree.
Comment on or Share this Article →