---
---
---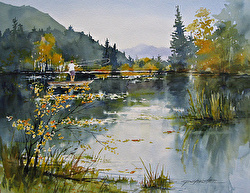 Lake Escape
Lake Escape was inspired by Wenner Lakes, a series of 3 lakes, a protected Methow Conservancy easement. The Conservancy and the Confluence Gallery in Twisp, partnered in orchestrating an exhibit where artists were assigned to create a work based on their interpretation of the conservancy easement lands they were paired with.
Much to my surprise, even as a resident of this area for over 35 years, I had never heard of these lakes! They are on private property and even had I discovered them, I'm not one to hop over gates, ignoring no tresspassing signs. What a treat, rounding a corner on a single lane dirt road, to find this little gem of paradise. One of the owners was there to show me around on a blue sky day with the last of autumn colors reflecting on the water. (I'm hoping for a return invitation.)
Rather than paint on site, I walked the area, took lots of photos and soaked in the feel of the place. Back in the studio, I studied the pics, choosing the ones that recalled the day's vibes and begin to pencil out some rough ideas for compositions. Once I settled on the fishing angle, time to do a value sketch and then transfer it to the paper.
Here's the value sketch and the full size drawing on watercolor paper: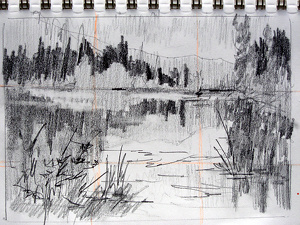 value sketch for Lake Escape
Lake Escape drawing on watercolor paper (yellow is blockout)
The "Inspired by the Methow" show is at the Confluence Gallery in Twisp. Hours are Wednesday - Saturday 10 am to 3 pm.
Curators Laura Karcher and Michael Caldwell did an amazing job of bringing it all together. Stop by Jan. 7 - Feb 18 for a wonderful show.
Comment on or Share this Article →
---
---
---
---
---
---
---